In the mid-1980's, the Nueces County A&M Club and the 12th Man Foundation formed the Corpus Christi A&M Club's Scholarship Golf Tournament as a scholarship fundraiser for the club. The tournament was a huge success, and, to this day, remains one of the club's most successful fundraisers. On June 26, 1990, the Nueces County A&M Club, the 12th Man Foundation, and the Association of Former Students decided to name the tournament in honor of George Puls, Jr. '44. Mr. Puls was the driving force in the organization and promotion of the tournament.
All proceeds collected from this tournament fund the Nueces County A&M Scholarship Program for local high school students. The George Puls, Jr. '44 Memorial Golf Tournament is open to the public.
JOIN US on Friday, March 31st at River Hills Country Club for our 2023 George Puls, Jr. '44 Memorial Scholarship Golf Tournament!
Registration form can be downloaded below! Email completed forms to saltyaggies@gmail.com.
Payments can be made below using the PayPal button (PayPal account not required for payment).
---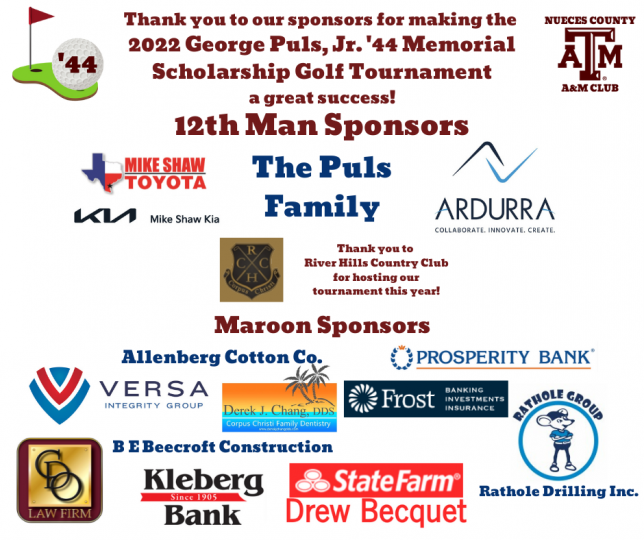 2022 Golf Tournament Sponsors
Thank you to our sponsors for helping make this year's tournament so great!
12th Man Sponsors
The Puls Family
Ardurra Group, Inc.
Mike Shaw Toyota & Mike Shaw Kia
Maroon Sponsors
Derek Chang, DDS
Allenberg Cotton Co.
Frost Bank
Cassidy, Delgado, & Olivarez
Prosperity Bank
Kleberg Bank
Versa Integrity Group
Rathole Drilling Inc.
State Farm – Drew Becquet
B E Beecroft Construction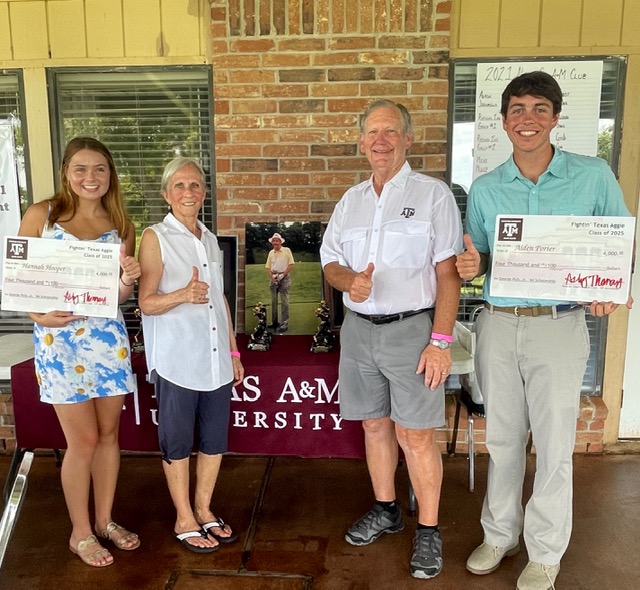 ---
In 2018, Mr. & Mrs. George Puls, III, gave the Nueces County A&M Club a generous donation of $20,000.
To properly thank the Puls family and to have Mr. Puls, Jr. '44's legacy live on, the club's board of directors created an endowed scholarship through The Association of Former Students in Mr. Puls, Jr. '44's name. The Puls Family gave another $20,000 donation in 2022 that was directed towards this endowment, putting the funds raised at well over $60,000 since 2018.