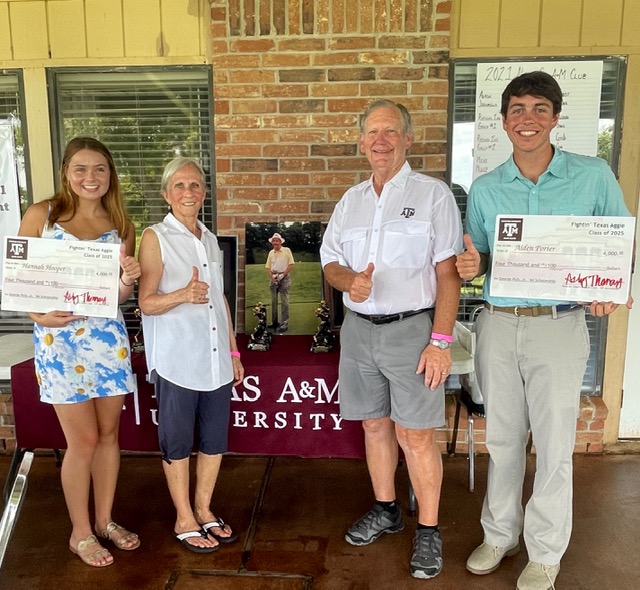 Aiden Porter '25
Aiden graduated from Port Aransas High School, and for three out of his four years he led the class in volunteer service hours. As a Senior, he served as an Officer of Marlins United, which is a club that coordinates volunteer opportunities for the school. He also played on the basketball team all 4 years, and was fortunate enough to be a District Champion his Sophomore and Junior years. 
Aiden has earned this scholarship because he's demonstrated what it means to be a selfless servant, even in the face of personal hardship. When he was a freshmen in high school, his hometown of Port Aransas was hit by Hurricane Harvey. His home was significantly damaged and he had to attend a much larger school with new classmates & teachers for a period of time. Although the start of his high school experience was difficult, Aiden rose above the circumstances, and not only made the best of it but found a way to help others because of it. In the months that followed, he helped his neighbors put their lives back together, delivered furniture to homes that needed it, and in the Spring after the hurricane raised money for scholarships for the Senior class members that would normally receive some funding from local businesses that just couldn't afford it that year. In the years that have followed Aiden has continued to pour himself into his community. He volunteers at Sandfest, Port Aransas Community Theatre, the Haunted Drive Through at Halloween, and is a volunteer T-ball coach for Port Aransas Little League and basketball coach for the Youth Club. Needless to say he's given hundreds of hours of his time and energy to his town, and we are certain he'll do the same in Aggieland!

At Texas A&M, Aiden has chosen to study Kinesiology with the aspiration to become a Physical Therapist in the future.

Hannah Hooper '25
Hannah graduated in the top quarter of her class at Flour Bluff High School. She has been involved in a number of organizations during her tenure in high school, including 4-H, Nueces County Jr Livestock Show, National Honor Society, and Varsity swim team. Hannah was actually a Varsity swim team member all 4 years, and served as Captain as a Senior. She must love the water because over the past 4 years she's transitioned from lifeguard, to swim lesson instructor, to Head lifeguard, and now Pool Manager.
But what really makes Hannah stand out is her commitment to service. When she recognized that some of her fellow classmates were not fortunate enough to wear a decent pair of shoes to school, she sprung in to action and developed a project called "Soles for Souls." With the help of her classmates and youth group, her project was able to provide 180 pairs of new shoes to her school. Even then she felt she hadn't done enough. When she learned that some students could not afford nice dresses for prom, she started Cinderella's Closet, which is a program where students can borrow gently used dresses, shoes, and jewelry so everyone has a chance to feel special at Prom. Both of these programs still exist to this day, and because of Hannah's initiative and commitment to service, she will surely have a lasting impact on many students in the future.
Hannah plans to become a nurse and eventually a Family Nurse Practitioner. We are very excited for her to become a member of the Aggie Family and start on her new adventure in just a few short months.
Rylee King '25
Rylee graduated as the valedictorian of her class at Tuloso-Midway High School. She is a highly decorated member of the 4H program and served as the Council 1st Vice Chairman Club President her Senior year. 
Over the past 4 years, she has been awarded multiple local, state, and national level titles in various Horse Judging contests. She has also committed almost 400 volunteer hours to the Nueces County Jr Livestock show and Nueces County 4-H Ambassadors program combined. She's also shared her knowledge of horses with over 4,500 elementary school students at Agricultural Awareness Days, and also assembled the first Horse Judging team in Nueces County in 15 years.
We are confident that her work ethic and commitment to excellence will lead her to be successful as a student at Texas A&M, where she is planning to take her talents and skills into the medical field.