November 12th, 2022- BTHO Auburn!
Lonesome Dove – 20000 County Road 1740, Mathis, TX
*All the way at the end of CR 1740

Gates open at 2 PM
Dinner will be served at 6 PM
Game starts at 6:30 PM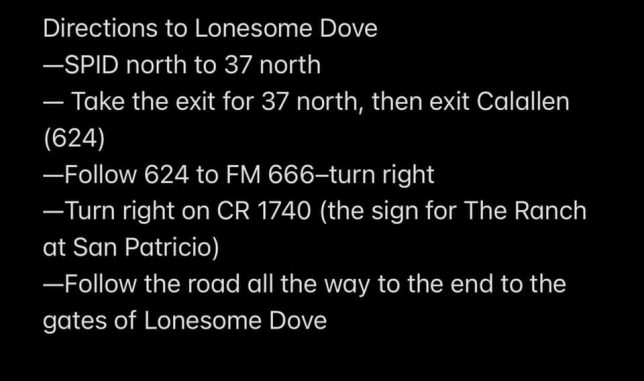 The Nueces County A&M Club cordially invites you to the 2022 Lonesome Dove Game Watch BBQ! Thanks to the continued support of the Berry family, this year's event will again be held at the Lonesome Dove Ranch near San Patricio, in Nueces County, just west of Corpus Christi.
The Lonesome Dove Game Watch BBQ is a family event that offers fun for all ages like trap & skeet shooting, fishing in a private lake, washers, cornhole, horseshoes, swimming, and more. We will have multiple big screen televisions available so we can all enjoy the game. Gates will open prior to kickoff, so come early and enjoy the ranch!
Salty Aggie club volunteers will prepare and serve Texas-style barbecue with all the fixings. We ask those whose last names begin with A-H to bring a dessert and those whose last name begins with I-Z to bring an appetizer or finger food to share. We usually need more appetizers than desserts, so if you're on the fence, bring an app! Tea, lemonade, and soft drinks will be provided. All other beverages are BYOB! Coolers of all sizes (filled with all types of beverages) are welcome.
The event is FREE for contributing club members who are current on dues.
Dues may be paid at the door. The cost is $30 per person for non-paid members. Children under the age of 12 are free.
Our 2021 Lonesome Dove Game Watch BBQ was a great success thanks to our wonderful sponsors: