One of the most sacred Aggie traditions, Muster allows Aggies to gather on April 21st of each year to remember those Aggies that we lost in the previous year. Texas Aggie Muster is observed in more than 300 locations around the world. These Muster gatherings are held in many unique places ranging from battleships and foxholes during World War II to ballrooms, steakhouses, rodeos, airplanes, and other locations.
2020 Nueces County A&M Club Muster was LIVE on Facebook!
2020 Nueces County A&M Club Roll Call
Dr. William Hodges Mobley
Dr. John J. Koldus, III
Maj. Harvey Harrell Storms '39
Harold Shearer '54
Nancy Craig '56
Allen May '56
Nancy Frost '60
Albert Hensz, Jr. '63
Karl Rubenstein '65
Ronald Smith '66
Ken Liles '67
Gerald Geistweidt '70
William Whitlock '72
James Curry '77
Hector Diaz '78
David Parish '79
Col. Glenn Starnes '81
Catarino Diaz '82
Lt. Com. Dennis Hassman '88
Lauren Morgan '13
Stephanie Weitzel '19
*If you previously purchased a ticket for the 2020 Muster via PayPal, you should have received a refund through PayPal.
If you did not receive your refund, please email saltyaggies@gmail.com.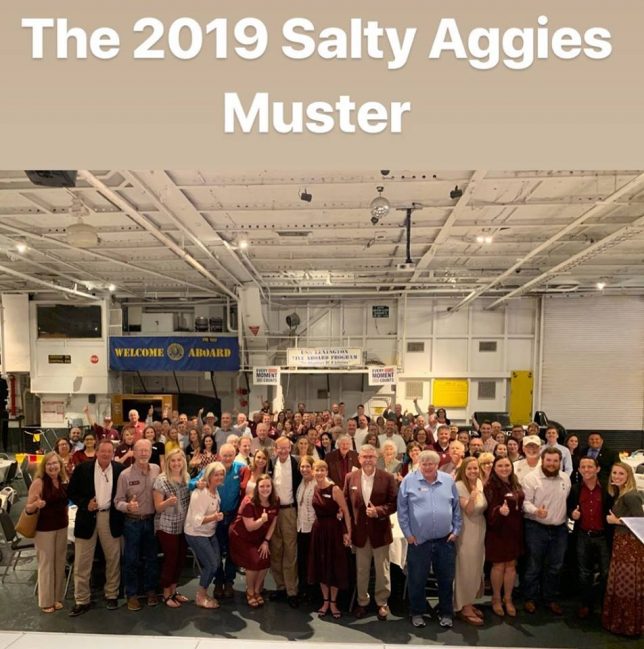 "Softly call the Muster, let comrade answer 'Here'…"

"The Last Corps Trip" by P. H. Duval, Jr. '51
For more information about the Muster tradition, visit the Aggie Network page about Muster and the campus Muster committee's website.