One of the most sacred Aggie traditions, Muster allows Aggies to gather on April 21st of each year to remember those Aggies that we lost in the previous year. Texas Aggie Muster is observed in more than 300 locations around the world. These Muster gatherings are held in many unique places ranging from battleships and foxholes during World War II to ballrooms, steakhouses, rodeos, airplanes, and other locations.
The NCAMC 2021 Muster will be held on Wednesday, April 21, 2021 at the USS Lexington!
Social Hour starts at 6 PM with bar services sponsored by Ashleigh Thomas '13, Loans by Ashleigh with Mortgage Financial Services
Dinner will start service around 6:30 PM – catered by Texas Roadhouse
Annual banquet presentation will start at 7 PM with the Muster Ceremony to follow
We're thrilled to announce Nic Taunton '07, Vice President of Development for The Association of Former Students, as this year's Muster speaker!
Muster 2021 Roll Call
*We included the 2020 Roll Call so each Aggie had the opportunity to have a person stand and say "Here" for them.
Linda Albritton '78
Claude Allen, Jr. '77
Michael Arnold '74
William Avant '71
Kenneth Cox '59
Nancy Craig '56
Catarino Diaz '82
Ginger Durrill '87
Shea Hales '97
Dr. Walter Hartman, Jr. '58
John Heldenfels '60
Albert Hensz '63
James Herrington, Jr. '69
Lt. Col. Lynn Hervey '50
Jeffrey Korth '62
Allen May '56
David Miller, III '65
Douglas Ocker '75
David Parish '79
Dr. Mona Ramon '19
Dr. William Richards '85
Juan Ruiz '70
Harold Shearer '54
Ronald Smith '66
Peggy Spaeth '74
Byron Spencer '87
Guy Wallace '51
Stephanie Weitzel '19
William Whitlock '72
Walter Wilcox '81
2021 Nueces County A&M Club Muster was LIVE on Facebook as well as in person!
2020 Nueces County A&M Club Muster was LIVE on Facebook!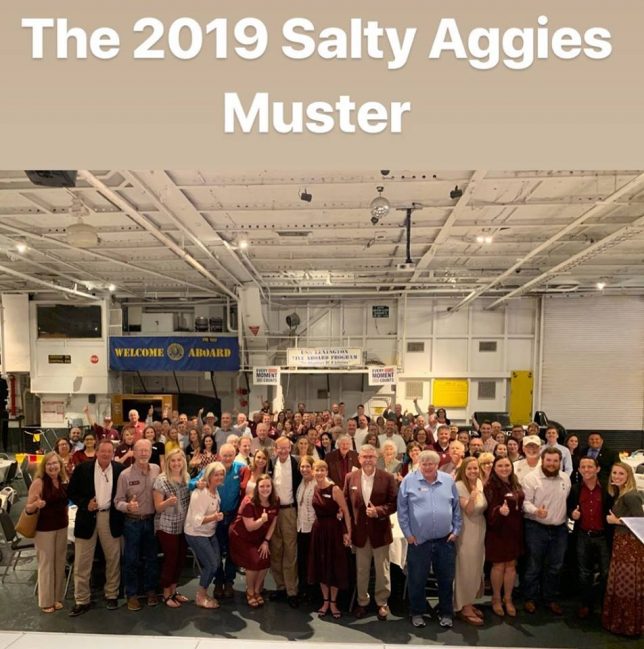 "Softly call the Muster, let comrade answer 'Here'…"

"The Last Corps Trip" by P. H. Duval, Jr. '51
For more information about the Muster tradition, visit the Aggie Network page about Muster and the campus Muster committee's website.